A Guide to 6 Cancer-Fighting Spices and Herbs
Karma Ayurveda
At your home itself, you are geared with the weapons to fight off cancer. Yes, the place is the heart of your home – Your kitchen, where shelves are filled with a collection of herbs and spice jars. The inclusion of spices in culinary preparation adds zing to your food. Herbs and spices from earlier times are commonly used in Ayurvedic treatments. It has effective antioxidant and medicinal properties.
Why go anywhere else? Your home spices not only make your food delectable but also has a healthy attribute. The medicinal and therapeutic properties reinforce the immune system and play a key role in keeping medical issues like cancer away.
So, keep incorporating spices into the diet regularly that would be the best ayurvedic cancer treatment.
In this blog, the emphasis has been put upon the spices that you can add to spice up the food and keep your health under check.
6 Spices you must include in your diet
Add flavourful spices in your culinary preparations so this will boost your immune system and fend off illness. So, let's delve deeper into the basic Ayurvedic treatment of cancer ie. food to improve not only the tang but to ward off your illnesses.
Turmeric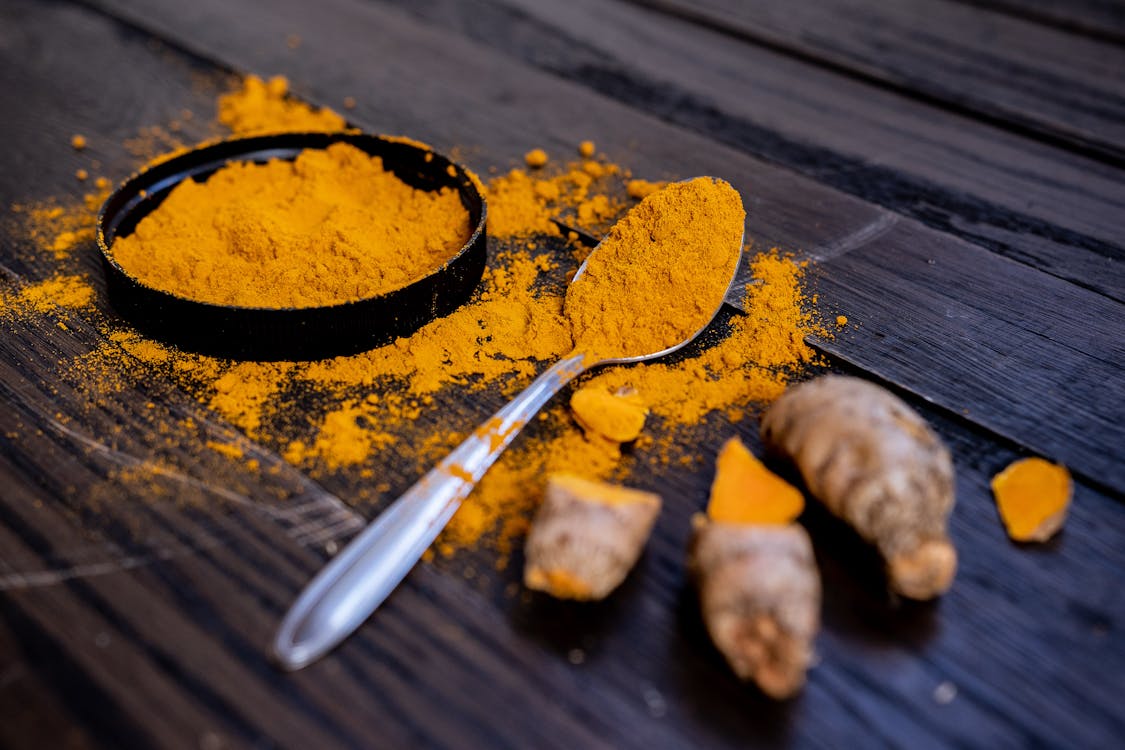 Turmeric is a traditional spice and has a long-standing history of its use since the Vedic era, nearly about 4000 years before. It has a religious significance and is also used in culinary preparation. It seems golden in colour and has a strong flavour. The presence of the principal active ingredient – curcumin in turmeric delays the progress of different types of cancer while decreasing the cancer cell population by killing them.
A high amount of inflammation in the body is the prime cause of cancer-related health issues. It helps create a favourable environment for the growth and spread of cancer-causing cells. Regular consumption of turmeric lowers the inflammation risk as it avoids the growth of dead cells.
Garlic
Garlic is an essential ingredient in various cuisines. Garlic has medicinal properties and the one which can lower the cancer risk. Each garlic clove is stuffed with a range of phytochemicals that reveals cancer-fighting properties.
A sulfur compound is released every time you chop or crush the garlic, and this compound is not only responsible for the unique aroma of the herb but aids in liberating cancer-causing enzymes.
In case you feel any inflammation after the intake of herbs, immediately consult an Ayurveda Doctor.
Ginger
Ginger is a flexible herb that not only beats cancer but also helps to lower nausea from chemotherapy, a side effect of cancer treatment. According to studies, it has been proclaimed that ginger plays a crucial role in eliminating stomach cancer.
The active element present in the herb reduces the cancer cell growth and restrains tumour growth. Gingerol present in ginger obstructs the activity of cancer cells while forming an environment that doesn't let the cancer-causing cell survive.
Black pepper
Black Pepper is a major ingredient counted in ayurveda for cancer treatment. The presence of piperine, an active agent with preventive properties, halts the cancer-preventive properties.
Piperine operates certain pathways in the body that enable the death of cancer cells. It promotes genes that prompt cancer detoxification cells and reduces the harmful cells in the body entirely.
Black pepper reduces the growth of the tumour and damages the enzyme action promoting growth and cancer cell multiplication. The elementary ingredient with antioxidant properties that aid in eliminating free radicals is known to develop cancer cell growth.
Clove
Studies have shown that clove is effective for cancer treatment. As an Ayurvedic treatment of cancer, clove has elements that thwart the development of premalignant cells into malignant cells that can pose a threat as an initiator to cancer.
The herb also lowers the abnormal crowding of cells while limiting growth to a huge level. The strong and effective spice can raise the enzyme levels in the body, which could cause cancer cell death and halt cell growth abnormally.
Cinnamon
Several harmful components enhance the blood vessel formation that strengthens the tumour and cancer cells and, therefore, assist them in growing. This is where Ayurvedic cancer treatment comes to the rescue.
Since cinnamon contains – cinnamaldehyde and procyanidins that have antioxidants and anti-cancer properties. Studies have shown that the active ingredient in cinnamon disables harmful components and obstructs the route that leads to cancer growth.
Besides this, cinnamon battles oxidative stress and lowers the free radicals in the body. Thus it builds an environment that is unfit for the survival of cancer cells.
How to add these spices and herbs to your diet for cancer?
Now you have become well-familiar with the amazing benefits of herbs and spices and how it is the best ayurvedic cancer treatment that can be found in anyone's kitchen. Here are some easy ways to use herbs and spices in your regular diet –
Spice up your favourite vegetable, meat curry, or gravies.
Drink a cup of herbal tea with herbs and add lemon and honey to improve the benefits.
Use it in soups and stews.
Level up the rice taste and pilafs with spices and herbs.
You can add flavour to your food using these spices.
Bottom Line
Did you know these before? If not, then surely you will be happy to know that the spices you were using have these amazing benefits. Regular inclusion of the aforementioned herbs and spices in your food eliminates the development of cancer-causing cells.
However, the medical world has progressed in cancer treatment people still are looking for the best Ayurvedic ways to counter the cancer issue. You can count on the aforementioned herbs and spices as the best ayurvedic cancer treatment that is given along with chemotherapy and radiation therapy to uproot the dreadful disease – Cancer. For more detailed assistance, you can consult an Ayurveda doctor from Karma Ayurveda.